How do pickles enjoy a day out… they relish in it 🤣.  Did you know that Sunday is National Pickle Day?  Pickles apparently date back to 2400 BC when people used to pickle their fresh food to make it last longer.  To celebrate, I am providing the most simple and delicious pickling recipe.  The best part is that you can basically pickle any vegetable - green beans, carrots and of course cucumbers are some my favourites.  Enjoy! 
Pickled Vegetables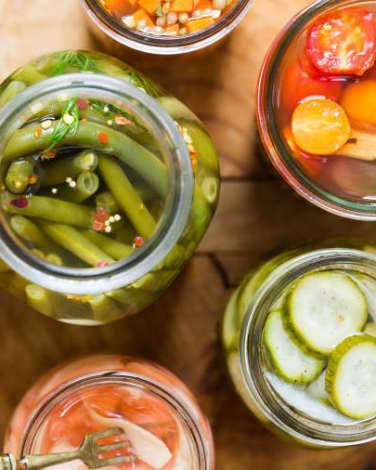 Ingredients: 
1 lb fresh vegetables (cucumbers, carrots, green beans, squash, tomatoes, mushrooms, beets, cauliflower, jalapeños, cabbage, onions, etc.)

 

2 sprigs fresh herbs (thyme, dill or rosemary)

 

1-2 tsp whole spices (black peppercorns, coriander or mustard seeds)

 

1 tsp dried herbs or ground spices

 

2 cloves garlic (sliced)

 

1 cup vinegar (white, apple cider or rice)

 

1 cup water

 

1 Tbsp kosher salt

 

1 Tbsp sugar

 
 
1. Divide the herbs, spices and garlic amongst the jars. 
2. Pack the vegetables into the jars, making sure there is ½ inch of space from the rim of the jar to the top of the vegetables. Pack the jars as tightly as possible.
3. To make the brine place the vinegar, water, salt and sugar in a small saucepan over high heat. Bring to a boil, stirring until the salt and sugar dissolve. 
4. Pour the brine over the vegetables, filling each jar to within ½ inch from the top. 
5. Gently tap the jars against the counter a few times to remove any air bubbles. 
6. Seal the jars closed and let them cool to room temperature.
7. Store the jars in the refrigerator for at least 48 hours before eating. 
Recipes inspired and adapted from The Kitchn.
Eat well, be well
Emma Minden, Registered Dietitian, Wholesome Go