Happy Halloween!  There is definitely never a shortage of candy and treats on Halloween.  So this year instead, I've decided to give you some of my favourite savoury Halloween themed food.  These recipes are healthy, delicious and spooktastic.  Have a fang-tastic time trick-or-treating and a Happy Halloween! Muahhahaha
 Jack 'O Lantern Quesadillas
Ingredients:
2 cups shredded rotisserie chicken
½ lime, juiced
½ tsp chili powder
½ tsp garlic powder
8 medium flour tortillas
¾ cup shredded cheddar cheese
¾ cup shredded Monterey jack cheese
1 Tbsp extra virgin olive oil
Cooking spray
Preheat oven to 425°F and grease a large baking sheet with cooking spray.
Add the chicken to a large bowl and toss with lime juice, chili powder and garlic powder.
Using a knife cut out a Jack-o-Lantern shape into 4 flour tortillas.
Onto the remaining 4 tortillas sprinkle the chicken mixture and cheese and then top each with a Jack-o-Lantern tortilla.
Place quesadillas onto the baking sheet, brush with oil and bake until the cheese has melted and the tortillas are golden, about 15 minutes.
Mummy Pizzas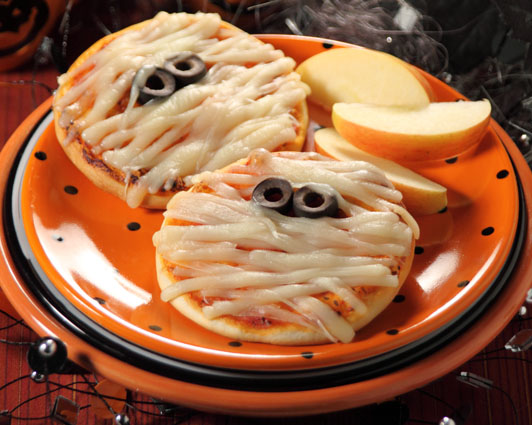 Ingredients:
2 Ciabatta rolls (or similar rectangular shaped bread)
4 Tbsp pizza sauce or sun-dried tomato pesto
1 cup mozzarella cheese, grated
2 zucchinis
4 black olives
Preheat oven to 375°F and line a large baking sheet.
Cut the bread rolls in half and spread each piece with the sauce.
Sprinkle each piece with the grated cheese.
Use a vegetable peeler to cut the zucchinis into thin ribbons and lay them across the rolls at different angles.
Cut two slices out of each black olive and position them to become the eyes.
Place the four pizzas on the baking tray and cook until the cheese has melted and the zucchini has wrinkled, about 20 minutes.
Spooky Stuffed Bell Peppers
Ingredients:
4 orange bell peppers
½ lb. ground turkey
⅓ cup zucchini, chopped
¼ cup broccoli, chopped
¼ cup tomatoes, chopped
2 cups tomato sauce
2 cloves garlic
½ onion, diced
½ tsp garlic powder
½ tsp oregano
½ tsp basil
1 Tbsp olive oil
Grated parmesan cheese (optional)
Preheat oven to 425°F and line a large baking sheet.
In a pan over medium heat sauté the ground turkey and vegetables. Once browned add in the sauce and seasonings.  Let simmer until the turkey is fully cooked through.
Cup the tops off the bell peppers and set aside. Using a knife carve out jack-o-lantern faces into the sides of the bell peppers.
Scoop out the peppers and add the prepared filling. Top each pepper with parmesan cheese (optional) and then add the top back on like a lid.
Bake for 35 minutes.
 Recipes inspired and adapted from Delish, Brit + Co and Super Sister Fitness
Eat well, be well
Emma Minden, Registered Dietitian, Wholesome Go